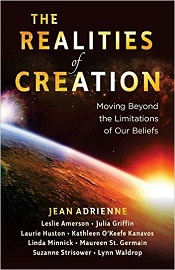 With the Release of our New book we are Preparing for our next series of TeleSummits! We begin on April 25th @ 7pm EDT!
We are SO EXCITED about kicking off our third series of Realities of Creation! And, we just KNOW you are going to love this new series.
We feel so honored and blessed to be able to co-host this second series of Realities of Creation, mostly because of listeners like you!
All of the speakers who contributed to our book, Realities of Creation, Moving Beyond the Limitations of Our Beliefs are joining us again with new fresh talks. We know you will love these live, interactive conversations on all the ways you create in your own reality and the special interaction from our speakers.
This event is truly a co-creation … as it takes all of our speakers AND all of you listeners to create. We hear your questions and that is what drives our divine connection to provide you with the information you are seeking.
To get all the all the scoop on our speakers, dates, show times and links, CLICK HERE to register for this series. Each speaker will have *FREE* gifts for you, available the week they present.
Our series 3 speaker line up is:
April 25 – Monday – Jean Adrienne – Your Genetic Heritage and how it supports your Creations
April 28 – Thursday – Julia Griffin – Connecting with Earth's Abundance
May 2 – Monday – Leslie Amerson – Making Your Shadow Side your Ally
May 5 – Thursday – Laurie Huston – Power of the Heart!
May 9 – Monday – Kat Kanavos – Dreams Do Come True During Our age of Aquarius
May 12 – Thursday – Suzanne Strisower – Awakening to Multidimensional Dreaming
May 16 – Monday – Lynn Waldrop – You are the Master Creator – Step up Your Game!
May 19 – Thursday – Maureen St Germain – Why do you need an Accurate Higher Self Connection
May 23 – Monday – Linda Minnick – Get Real – Understanding What is Our True Reality
You won't want to miss these powerful and inspirational speakers as they share their insight and activations with you.

For My Special: Go HERE!