Happy Thanksgiving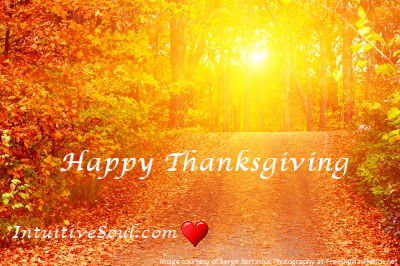 This is my favorite time of the year. The trees are changing into beautiful colors and the temperature is still nice – there is so much to be Thankful and Grateful for. Although we had Thanksgiving in Canada already last month, we still celebrate Thanksgiving with our American friends south of the border.  I am very Grateful for all the Blessings that surround me. Thank you all for your Love and Support over these years. I'm eager to discover the new opportunities that abound and my continued service. Thank you for Choosing IntuitiveSoul ♡
I had this breakthrough around 'time' this past week. It was too late to put in my Newsletter this month. It was about how although we can't change our past – it happened – we can change how we responded to it which will assist us to shift our perceptions of the past and our fears. Tom Campbell and I discussed this in our latest interview. Check it out.
What's Up in the Universal Sky this month: November 2018
We start the month with Venus in retrograde (since October 5th, 2018). On October 31st, she retrograded back into the sign of Libra slightly shifting the energy from releasing values that no longer serve us to focusing on relationships. Do we need to release the relationship, or do we need to focus on repairing it? How are the people in your life serving you? Don't act on those questions right now, just continue to ponder them. Wait until she stations direct on November 16th to move forward with your decision.
Also, on November 16th, Mercury will station retrograde in Sagittarius. This stimulates our minds higher beliefs. Our mind is being asked to look at our Souls (higher) perspective. One needs to look at the greater purpose of what our soul desires. Trying to think your way through your purpose is difficult now, so just accept what comes to your mind and allow the process to unfold.
The North Node (South Node) also shifts signs on November 6th. The Nodes are points between the Sun and the Moon that give us direction. Since April 2017 the North Node in Leo gave us the opportunity to open our hearts to the vibration of love and through forgiveness. Once it shifts into the sign of Cancer we are focusing on our personal needs. It is a time of allowing our vulnerabilities to show. People will be highly sensitive to this vibration and one must incorporate compassion and empathy into their being.  We are nurturing the child within as we respond to others in our lives.  Read Full Article…
Nancy Arruda is a psychic-intuitive who uses the tools of Astrology and Tarot to gain understanding into the spiritual realms.  She believes in focusing on doing what you love to do.  Living life through your heart center and allowing your inner light to shine!  Visit her at www.universalsky.com
Inspiration: BEing is a Choice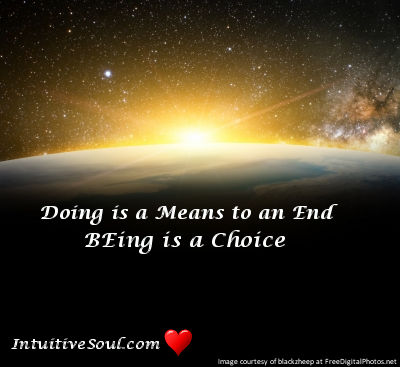 "'Doing' is a means to an end but 'Being' is a choice." This quote came to me as I was preparing for a meditation this month. I thought it was important because it embodies what I have been teaching for years now. Things happen and we react to what is happening by 'doing' something to change it if we don't like what is happening. Even when our heart is in the right place we are still manipulating what is happening in our lives or the lives of others. We may try to fix, change, heal – but we are 'doing' something to manipulate what is happening. Doing is just a way to change our outside world. We may do things from fear or from a place of love – however it is still 'doing' something on the outside in hopes to change how we feel about what is happening on the inside. The outside world is dictating to us how to respond to a given situation. And this is backwards!
'Doing' is a means to an end but 'Being' is a choice.
What happens to us isn't a choice – how we respond to it is. How we choose to 'show up' to the world is a choice. How we choose to BE in any given moment is a choice. The outside dictates our reactions only when we are unconscious and stuck in linear time – thinking about the past or future and not in the NOW moment. We can choose to respond to any situation out of Love and Compassion. We can choose to BE happy or be angry when someone does something we don't like. We can begin our day setting an intention of how we want to feel or BE during the day and make a conscious effort to remain in that energy all day regardless of what happens around us – because we have a choice! We are the only one who can choose how to 'show up' in our lives.
Let me explain the bit about being unconscious and stuck in linear time. When something happens – good or bad – we/our brain (ego) automatically reacts to situations from our past experiences and our reactions are mostly unconscious. This is our brain's way of compartmentalizing various responses and how we create patterns. Our brain believes we have already 'defined' our experiences and our emotions and sees each event as similar to another event so our brain automatically responds the same way as it did in the past. This is typically where we get stuck – because we have responded to betrayal or an accident or pretty much anything that has ever happened to us in the same way as we have before. It is why we see the world the way we do. It is part of our 'story' and that story continues unconsciously until we begin to see the world for the first time again … as we stand in the present moment BEing fully conscious. Then and only then can we choose how we want to respond in any given situation. And also be aware that there is a choice in how to respond.
What happens to us isn't a choice – how we respond to it is.
Upcoming Shows & Guests
If you want to join us for a live taping of News for the Heart, you can join us on BlogTalk. Let me know & I will post all the information on Facebook!
I have live tapings at 1PM with: 
Nancy Arruda Nov 26th
Tom Campbell Nov 27th
Join the excitement! Check Facebook
Don't miss my newsletter each month and receive discounts on my favorite services as well as a download of a Quan Yin meditation. Sign up on the right at the top of the page.
With Love and an Open Heart,
Laurie ♡