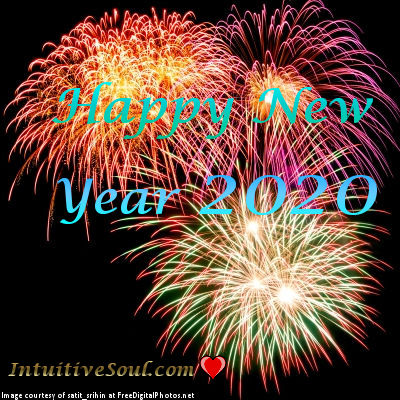 🎉💖🙏Happy New Year 🙏🎉💖
As we end this decade and begin anew – Let's Create something Magical. I invite you to take this Journey day by day and Use the New Year as a way to improve your 20/20 Vision of your life – To Inspire and Accept all the Good, Bad & Ugly that we judge about ourselves and others & instead BE Gentle, Kind & Loving!
From My Heart 💝 to Yours! Laurie
Welcome 2020 – I wrote about this in my New Year Blog below. Let me know how this year impacts you. Happy New Year!
Inspiration: Year of Ascension & Spiritual Growth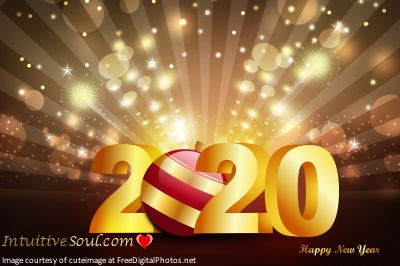 For many years now people have been saying that 2020 will be essential to our next stage of Spiritual Growth and Ascension and calling it the Age of Aquarius – which feels like it has been happening since the mid 80's. What are your expectations for this new decade? I know astrologically we are going to experience some challenging events like in 2018 with both Mars (Sept to Nov) and Venus (May and June) going retrograde. However, beyond these astrological events it seems the greater events of interest is because of the transits at the end of the year and that is why there are wide expectations of this being an important Year for Spiritual Growth and Ascension. Saturn enters Aquarius Dec 17th (briefly entering earlier in May and June before retrograding back into Capricorn); Jupiter enters Aquarius Dec 19th and there is a Great Conjunction – where Saturn conjuncts Jupiter in Aquarius Dec 21st – which occurs every 20 years but the last time when it was in Aquarius was 1405 and will be again in 2080. The event has suggested celestial significance and belief that the Star of Bethlehem was actually a Great Conjunction.
So what constitutes a proclamation of a year becoming the Year of Ascension? Could astrological events determine the energies? I honestly can't seem to feel what this new decade's energies will suggest. I have felt years that have had significance and the energies felt clear to me. This year I'm unclear. Maybe it is because over the past few years I have come to a different understanding of what our purposes are here: that it isn't about some miraculous event occurring that will change our energy but rather it is our choices and our fears that assist us to become more conscious and more able to Evolve in our Spiritual Growth. If we want to change, to evolve, we have to Become the Change. Nothing outside of us will create this change. We can be supported by outside influences but ultimately we have to want to change and make the efforts to create the change within us.
What creates Ascension? Read More…
Upcoming Shows & Guests
If you want to join us for a live taping of News for the Heart, you can join us on BlogTalk. Let me know & I will post all the information on Facebook!
I have live tapings at 1 & 2 PM with:
Tara Greene Jan 7th
Tom Campbell Jan 28th
Join the excitement! Check Facebook
Don't miss my newsletter each month and receive discounts on my favorite services as well as a download of a Quan Yin meditation. Sign up on the right at the top of the page.
With Love and an Open Heart,
Laurie ♡