Happy New Year 2015!
What you need to know this year!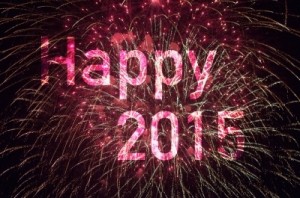 Year 2015 – the year the tides changed. We finally have something to look forward to as both western and Chinese astrology predict prosperity and wellbeing. 2015 is an eight power year in numerology and in Chinese astrology it is the year of the sheep or ram, which is also the 8th sign. In Chinese astrology not only are sheep considered a calming and peaceful influence, but a welcome sign of economic upswing and the number 8 is also considered lucky! The only new moon in Capricorn was Dec 21, 2014. We will have 2 new moons in Aquarius, Jan 20th at 00 degrees and Feb 18th at 29.59 degrees, three minutes before the sun enters Pisces!! This is actually a huge deal, one is for very new beginnings, and the other is for absolute endings. I think that will mean that our time in Aquarius this year is going be interesting!! Plus we have Mercury going retrograde in Aquarius Jan 21st-Feb 11th (All Mercury Retrogrades this year will be in air signs, the first being Aquarius, which rules social media and communications. This could mean trouble over the airwaves. Mercury retrogrades are the best time to reboot, remake, realize, retreat, refinish, repeat or re-invent!) We have the final Uranus square Pluto on March 16th which will end this sevenfold series of clashes between these two disruptive energies that started in 2012. We have our first total solar eclipse on March 20th at 29 degrees of Pisces. We have only 2 sets of eclipse this year, but 3 of them are total eclipses (although, in EST or most of America, it will be too early to see). We will have a total lunar eclipse Apr 4th (8am EDT in Libra), partial solar eclipse Sept 13th (Virgo) and then a total lunar eclipse Sept 27th in Aries at 10:47pm EDT). Eclipses are always important and lead to significant changes. The most significant this year is likely to be the total solar eclipse on our spring equinox, which is also a supermoon (appearing larger than the sun and blocking out all direct sunlight) and the same week as the last of the Uranus square Pluto. This week will be a catalyst for change! Last year began with Venus in retrograde and this year she will retrograde again July 25th to Sept 6th, which may suggest this summer's weddings/relationships will have some difficulties. However, other than Venus retrograde in the summer, along with the eclipses in September, my belief is that once we hit spring equinox we should be pretty much full speed ahead into an amazing year! Now if you want to understand more about what astrology and numerology can tell us about this exciting year that lies ahead, tune into Nancy Aruda and I as we discuss it on Jan 7th.
On January 8th at 4pm EST, I will be a co-host with Jean Adrienne on her new show Power Talk on www.healthylife.net. It's live so call in on 800-555-5453! We will be on every first Thurs of the month!
I will have some new guests and co-hosts on BeMajor.org this year, so please refer to facebook for when my shows are happening live and produced.
Also remember that Realities of Creation's new set of Teleclasses begin in February where we will have new free gifts and new classes on our topics. If you didn't join last Sept, please join us now!
What are your New Year's Intentions?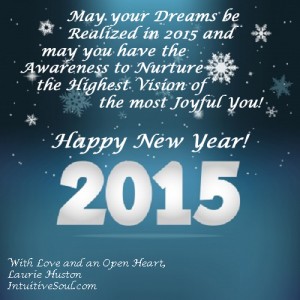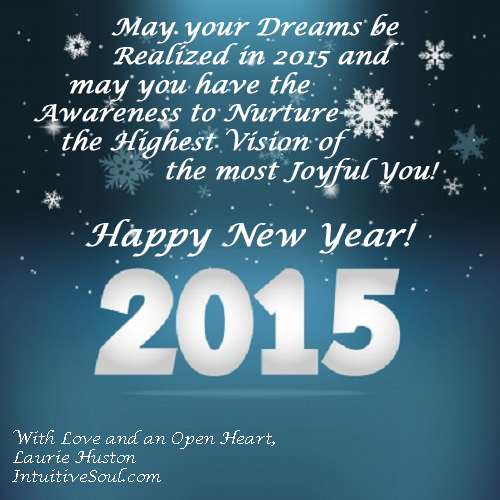 As we prepare to welcome a New Year we always review the old. 2014 has not always been an easy year, especially April, eclipses, Grand Square and Uranus square Pluto… Yikes, I hope that never occurs again! And typically as we prepare for a New Year, we come up with a series of New Year's Resolutions, which are quickly broken and we end up feeling shame and guilt. I am not a big "goal" person, because mostly our goals are outside of us, number one resolution this year, is to spend more time with the family, numbers 2 and 3 have to do with fitness and weight loss, then quit smoking, drinking, get out of debt… although, number 5 is Enjoy life more!? Why save the best for last?! Now we all have things we would like to change and we all want to make this change effortless and achievable, however, instead of making lists of external chores, let us shift our focus to the inner feelings we desire! Instead of weight loss and fitness, what inner feeling are you trying to accomplish? When we are overweight, we feel sluggish, depressed, anxious that we aren't changing fast enough or frustrated that we aren't following our goals. Fitness makes us have more energy and a sense of accomplishment. Regular exercise has been associated with more health benefits than anything else known to man. Studies show that it reduces the risk of some cancers, increases longevity, helps achieve and maintain weight loss, enhances mood, lowers blood pressure, and even improves arthritis. In short, exercise keeps you healthy and makes you look and feel better. Therefore, following my idea of feelings, don't think of fitness or exercise as a chore, but as a way to feel better. What about, an intention to feel more balanced or a way to connect and feel grounded to the earth (to me the best form of exercise is walking). Find a way to achieve what you desire, by nurturing the feelings you want within you. If you want to stop smoking, think about feeling free to breathe fresh air. Instead of focusing on what you aren't doing, focus on what you want to feel. Take baby steps towards this inner feeling you want to create. Be gentle with yourself. Be kind and understanding with yourself too. I believe that it is through our feelings that we will make the biggest changes we desire. If we want harmony, then everything that doesn't have harmony in our lives will come up for us to examine, however, it is still our choice to feel harmony within, and not expect others to change in order for us to feel harmony. As long as we feel harmony within us, then it will reflect outside of us… and if there are others we want to be harmonious with us, we can invite them but we don't have any control over what they choose to experience. However, what others choose to create won't bother us when we feel harmony within ourselves! I believe the best intention for 2015 and the years to come are to feel love for yourself! Honestly, this seems like a work in progress for me. I understand the concept, I am gentle and I work to improve and evolve every day. Yet, I am so critical and hard on myself. I am definitely my own worst critic, as many of us are. It always seems easier to accept and love others than to do the same for ourselves. This year I am intending to feel love, above the acknowledgement of all that I have accomplished and created within my life. I am opening myself to love and feeling safe within my Being and sharing this with all that I know. I will let you know how this goes throughout the year! Maybe we can share in this intention together. So this year, I invite you to focus your intention on what you choose for your inner life. Choose Joy, Freedom, Passion, Abundance, Love, Success, and a life filled with a Higher Purpose! Choose this for you and intend it for everyone. Fill yourself with Gratitude for everything happening in your life; the good, the bad and the ugly. It's all leading you to discover your next highest vision of the most joyful you! May your Dreams be realized in 2015 and may you have the Awareness to nurture this highest vision within! Happy New Year!
Upcoming Shows & Guests
If you want to join us for a live taping of News for the Heart, you can join us on Hangouts or BlogTalk. I will post all the information on Facebook! I have live tapings at 1PM with: Jean Adrienne Jan 5th & 19th Nancy Arruda Jan 7th David Watson Jan 13th Eric Altman TBA More are joining the excitement! Check Facebook Sign up for my newsletter on the front page you can receive discounts on my favorite services and download a Quan Yin meditation. With Love and an Open Heart, Laurie