Happy New Year 2018!

I can't believe 2017 is now closed and we step forward into another year.
2017 was a 10 year or a new beginning year that brought with it many changes and challenges. Were you able to create some exciting new beginnings? 2018 is an 11 year in numerology which is a master number making it a year of Mastery. It also is brought down to a 2 year (11) 1+1=2 which makes it about Love. 2018 as a 2 year has Love, connection, partnership, relationship, patience, sensitivity in a gradual progress whereas an 11, the double 1's, create a vibration that embodies Divine Inspiration and making things happen with an intensity. It is a year to gain mastery over your life and understand the subtle framework of the Universe!
What's Up in the Universal Sky this month: Jan 2018
Nancy Arruda combines numerology, with tarot and astrology and I like that concept. Looking at tarot we bring in Justice, High Priestess, and unconsciously the Judgement card. Listen to our interview about the New Year! Read what Nancy has to say about 2018 and Jan
Nancy Arruda is a psychic-intuitive who uses the tools of Astrology and Tarot to gain understanding into the spiritual realms.  She believes in focusing on doing what you love to do.  Living life through your heart center and allowing your inner light to shine!  Visit her at www.universalsky.com
Inspiration: How will you Master 2018?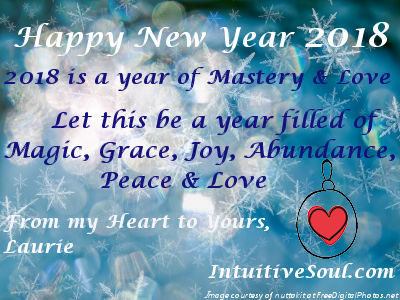 I have seen different posts on what this year will be about. Intuitively I feel that this year is about Mastery and Love. I feel it is always important to set your intentions each New Year and forget your resolutions. Intentions are a choice we make that signals the Universe to help us create from a state of BEing, Grace, and clarity. Resolutions are something that we set and often, when we don't achieve them, create a sense of failure. It is by definition a tradition in which a person resolves to change an undesired trait or behavior to accomplish a personal goal or otherwise improve their life (Wikipedia).
When we set Resolutions we come from a place of doing. 'Doing' results in falling back into old patterns – especially if we haven't changed any of our beliefs, fears or expectations – because we are trying to control, manipulate, change, fix or heal ourselves from this 'doing' state. This state doesn't recognize our Being and Divine Self. Intentions, to me, are about connecting into how we 'intend' to feel and come from a state of BEing not doing. In my show with Tom Campbell, he suggests it isn't what you DO rather how you do it. It's who we are while we do it or how we are BEing.
When we write our Resolutions for the year we are attempting to 'do' something. And unless we come from our BEing level we aren't likely going to make any lasting changes. We often review all the things wrong with our outer self and set goals such as weight-loss, health, fitness and addictions and look for ways to control, change or fix ourselves. We look at how we can approach our 'problems' differently to make lasting changes. However, we have to 'own' our problems, take responsibility for our fears and choices. When we have something we want to change, like our weight because it impacts our health, we have to know our motivation and approach it understanding what the underlying cause is. This is where we need to dig deeper than just using our mental will to change. We have to figure out what the cause of the weight gain was initially, yes, from the beginning. Like in the act of stopping smoking we can use our will to lose weight however if the underlying cause is still present whatever we have tried to stop – or an alternative addictive behavior – will continue. And I am calling this underlying cause 'fear'. And so we 'do' things out of fear rather than 'Being' – which is how we express ourselves – so if there is fear while we are BEing we can recognize it and change it to how we would rather BE. Read More…
Upcoming Shows & Guests
If you want to join us for a live taping of News for the Heart, you can join us on BlogTalk. Let me know & I will post all the information on Facebook!
I have live tapings at 1PM with: 
Tara Greene Jan 2nd
Tracy McBurney is back TBA
Jean Adrienne Jan 15th
Nancy Arruda Jan 16th
Tom Campbell Jan 30th

Join the excitement! Check Facebook
Don't miss my newsletter each month and receive discounts on my favorite services as well as a download of a Quan Yin meditation. Sign up on the right at the top of the page.
With Love and an Open Heart,
Have a Happy Magical New Year!
Laurie ♡