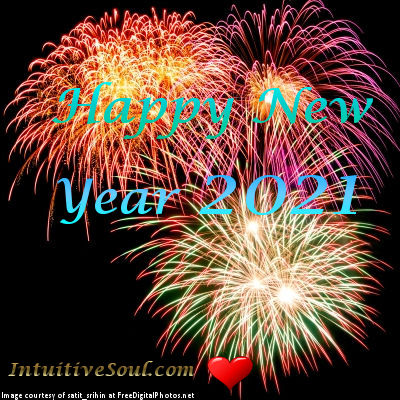 Happy New Year… I am so grateful that this year is almost over. I honestly can't remember a year that was so full of challenges and stress. However, I do feel confident that 2021 is going to be an Amazing year. Everything that has occurred over this year has changed our lives forever. We also have a fresh start to make Empowered Choices from a place of LOVE. We can choose how we want to experience this Life we live. My New Years Message this year is about Faith. Tom's message is about remaining Positive, observing our Intentions and Perceptions to BE from a place of Love. I'm excited that Tracy McBurney is going to be joining us each month again. Check out her last show where we discussed Love and Compassion.
🎆🎉❄ Happy New Years! ☃💜🙏
Inspiration: 2021 Angel Message
After the year we have almost completed – it isn't a surprise that the word of the Year is Faith. Something we have all seemed to have lost. 2020, the Year of Ascension, depended on what choices we made. If we allowed LOVE to govern us throughout the year, then we evolved our Soul Essence. However, as most of us allowed fear to make our choices, now we require Faith to get us back on track. A New Year won't Magically shift us – it is through our Conscious Choice to Choose LOVE that will create the shift we are looking for. We require Faith that this shift will happen through our choice of LOVE. This Faith is in the knowledge that Everything is in Divine Order – regardless of what is happening around us. The 'happenings' around us are always about how we perceive things to be. Fear creates more fear so having such Faith in Fear will create happenings that build even more Fear in us. Have Faith in the Universe and Source that all is as it is meant to be and that You are being taken care of. This is about Faith in your inner Divine and Faith in your inner Divine is a wonderful message to carry with you – especially into the year ahead. Read More…
Upcoming Shows & Guests
If you want to join us for a live taping of News for the Heart, you can join us on BlogTalk. Let me know & I will post all the information on Facebook!
I have live tapings at 2 PM with:
Tracy McBurney Jan 12th
Tom Campbell Jan 26th
Join the excitement! Check Facebook
Don't miss my newsletter each month and receive discounts on my favorite services as well as a download of a Quan Yin meditation. Contact me while website is being redesigned.
With Love and an Open Heart,
Laurie ♡