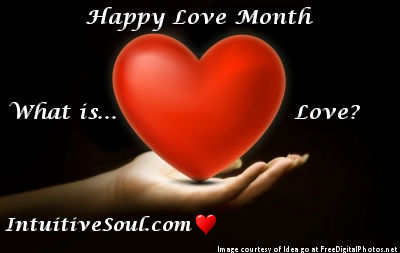 Happy Valentine's Day and Love Month @ IntuitiveSoul! This month I have produced two fabulous interviews on Love. Both very different. The first one was with Tom Campbell Love is a Gift all about Love and self-love in the context of Consciousness / evolving on ones spiritual path. And the second is with Medical Intuitive and Channeler Lori Wilson on three different kinds of Love as channeled by Grandmother; Soul Mates, Twin Flames and Hard Soul Helpers. She has offered to Gift us with her 2 hour long channeling if you go to her website InnerAccess101 and put in the code LH4U anyone listening to this show will be able to listen for free.
I hope you have a Happy Love Day!
Inspiration: What is Love?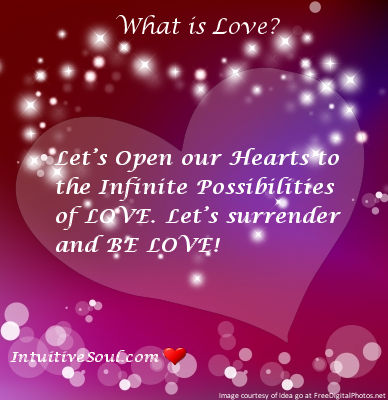 Do we really know what Love Is? February is Love month… the shortest month of the year and one we associate with LOVE due to Valentine's Day. Every year I write an article on Love and how it relates to us. I'm always fascinated by where my mind wanders as I contemplate another article on Love. When I look at it based on the theme I want to write about in my next book – In Fear we Trust – it makes me wonder if we know what love is. We typically associate Love, especially Romantic Love, with perceptions and how our past patterns have established what we describe as 'love'. In other words: due to our first 7 years, our media exposure, our past experiences and our perceptions of how those experiences played out, and our own needs and wants and how we believe those needs have been fulfilled in our loving relationships, we have created an image of what Love is. Does this sound a little pessimistic or depressing? It isn't meant to be. However, it is unfortunately how most of us see love. To us love is more about what we want than who the other person is. Read More…
Upcoming Shows & Guests
If you want to join us for a live taping of News for the Heart, you can join us on BlogTalk. Let me know & I will post all the information on Facebook!
I have live tapings at 2 PM with: 
Lori Wilson Feb 11th
Tom Campbell Feb 25th
Join the excitement! Check Facebook
Don't miss my newsletter each month and receive discounts on my favorite services as well as a download of a Quan Yin meditation. Sign up on the right at the top of the page.
With Love and an Open Heart, 
Laurie ♡