Happy Holidays!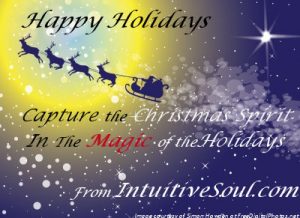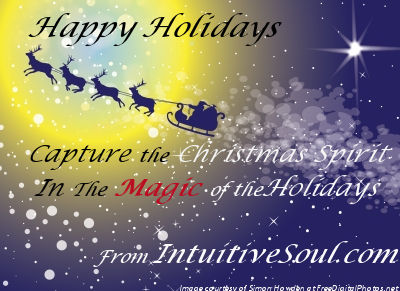 I want to wish everyone a Magical Holiday Season!
As some of you are aware my good friend Jean Adrienne had a near-death experience that came from a life altering accident. From this experience she learned detachment and Gratitude. This is why my message this Holiday Season is about Capturing the Christmas Spirit In the Magic of the Holidays! Gratitude is all about connecting into the Spirit of the Holidays, the innocence of our childhood and BEing Open to the Miracles in our lives (big or small). I am Grateful for all of  YOU!
This is a big month astrologically speaking, Nancy Arruda and I discussed the events in our last show, the one I want to draw attention to is Mercury Retrograde as it will impact your Christmas Shopping and New Years Eve plans. Ensure you double check anything electronically done as Mercury is the trickster with anything electronic! More below.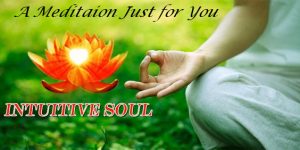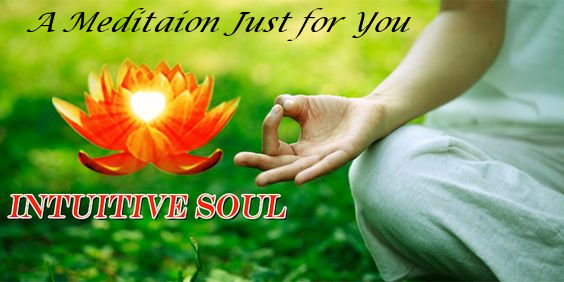 I'm offering a new service of personalized 10 minute meditations that will include a set of wishes that are channeled to inspire you or someone you love for the Holidays or any day! This is a wonderful way to begin or end your day!
Our book "Realities of Creation" that I co-authored has 
been released. It looks fantastic and my chapter is on the Power of the Heart! Purchase your book today! For the coming months, I will be doing a series of interviews on the book, see Facebook for updates. It would make A wonderful Christmas Gift. Buy Yours Today!
What's Up in the Universal Sky this month:
December, a time to connect with family as we embrace the spirit of giving and enjoy the festivities!
This particular December is packed full with astrological activity.  Such as; Chiron stationing direct on December 1st, allowing all of us to embrace their healing journey with HOPE!  Hope that comes from a place of innocence which stimulates feelings of warmth at the heart center.
The Full Moon in Gemini on December 3rd allows you to acknowledge the changes within your creative imagination.  I am mentioning the Full Moon in Gemini because Gemini's ruling planet, Mercury will be stationing retrograde on December 19th.  (It will be retrograde until January 8th, 2017).  This retrograde cycle is asking everyone to PLAY MORE, to be ACTIVE and see where your creative vs logical thoughts require a re-alignment.  The pre shadow starts on December 1st and the post shadow last until Jan 27.  So be aware of miscommunications.  If you notice, you are wrong, then make sure that you can correct yourself according!  Saying "sorry" can go a long way!
Saturn in Sagittarius will trine Uranus in Aries  on December 24th allowing individuals to infuse taking responsibility with any new and exciting projects or concepts.  This aspect allows for a breakthrough in your life as you explore new interests that arise.  This aspect will return again on May 19th and November 11, 2017.
Changes are necessary when Jupiter in Libra opposes Uranus in Aries on December 26th.  The change can be sudden and dramatic or it can simply be a break in your routine.  With the activation of this Aries / Libra polarity relationships are highlighted.  If you are noticing a breakdown in your relationships, career or way of life, then take some time to ponder on what you desire to create a new.  Do not hold onto the old way of being, but rather, embrace the change the universe is imposing upon you.  This aspect will return again on March 2 and September 28th, 2017 .
Saturn in Sagittarius square Chiron in Pisces on December 28 activates the need to let go of emotional patterns which holds back your true self.  Know that this is a sensitive time, and it is best to use this time with introspection.  Take some time to ponder on the past.  You will have the opportunity to expand your understanding of the past, so that you can move forward with wisdom and new insight into what you need to heal on a spiritual level (which can vibrate down into the mental, emotional, and physical layers of BEing).  This aspect returns again on April 30 and November 2, 2017.
We close the year with the New Moon in Capricorn on December 29th, as well as, Uranus stationing Direct on that day a few hours after the New Moon.   The New Moon offers the perfect setting for setting your intentions for 2017!  With mercury currently retrograde in the sign of Capricorn, keep your intentions some what open to change.  Focus on what you desire to build in your life!  Focus on the foundation in which you desire to build upon.  Be open to changes transpiring within these intentions as Uranus is activating the surge of the unpredictable into your formula.  There is interplay of yin and yang taking place and the desire is to have both sides of the energy find an appropriate balance.  Non-action vs action.  Introspection vs sharing your ideas or growth,  power vs force!  Victory happens when balance is attained.  Enjoy the remainder of 2016!
Nancy Arruda is a psychic-intuitive who uses the tools of Astrology and Tarot to gain understanding into the spiritual realms.  She believes in focusing on doing what you love to do.  Living life through your heart center and allowing your inner light to shine!  Visit her at www.universalsky.com
Inspiration: Holidays and Gratitude!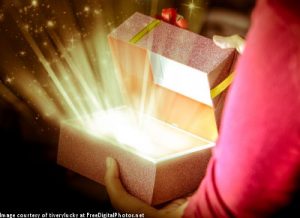 As we come into the Holiday Season, which is always a Magical time for me, I want to offer a way for us all to BE Grateful for all that we have.
October was a very challenging month for me and November allowed me to uncover new ways and new perspectives to come into alignment with my Health and Well-Being. I am feeling better than I have in years and my energy and health have improved significantly. What changed? Well despite two mega doses of antibiotics and some natural health supplements to super charge my immune system perhaps what changed is that we are in the end of the nine year cycle (As previously discussed, 2016 is a 9 year in numerology and after Sept 9th [9-9-9] to Jan 1st, 2017 [1-1-1] when we begin a new cycle we will be releasing a lot of 'things' that are no longer necessary in our lives; from people to beliefs.) and I believe that cycle is what has been holding me in a certain pattern that is finally ready to be released. And in this 'feeling good' phase of my life I now feel like I have outgrown the limiting aspect of this cycle!
So, I have a lot to be Grateful for!
I came across this beautiful interview with Buddhist Monk Phap Dung in response to the question about what people can do who are feeling very fearful and uncertain about America and the planet. His response was beautifully worded! [For the full interview go here… http://www.vox.com/science-and-health/2016/11/22/13638374/buddhist-monk-mindfulness.]
"We see the mind like a house, so if your house is on fire, you need to take care of the fire, not to go look for the person that made the fire. Take care of those emotions first; it's the priority. Because anything that comes from a place of fear and anxiety and anger will only make the fire worse. Come back and find a place of calm and peace to cool the flame of emotion down."
 I felt this quote was especially pertinent to all that is going on this last month and how we can take time this Holiday Season to take care of Our House and not project our fears, anxiety and anger onto our friends and family. The holidays can be particularly stressful for many people and emotions come up. And these emotions come up for us during the Holidays are often triggered by something related to what occurred during the first seven years of our lives. With the added anxieties that many are experiencing – especially in this season – we have an opportunity to 'Remember the Magic' and be in charge of how we want to BE and how we want to respond instead of directing the fire outside of us!
Taking responsibility for our reactions and emotional fears is something that isn't always easy and is something that we would rather blame on someone else. These reactions and fears are the triggers that our egos would rather not deal with nor take responsibility for. Holidays often dredge up some of our worst fears and reactions – our disappointments, feeling alone, feeling unsupported, sensing unexpressed anger and sadness – that we often don't acknowledge as they lie deep below the surface of our unconscious until triggered. Our families often take the brunt of these reactions.
However, this time of the year has another energy available to us. It is the Magical Beauty of Giving and Loving, the True Spirit of Christmas. I like to remind my listeners and readers every year that the Magic of the Holiday season is beautifully powerful. It exists because of the underlying energy available around unconditional giving and sharing. It exists because of the saying that is so prevalent everywhere: "Peace on Earth and Good Will towards Men". I prefer to believe the use of 'Men' is a general statement that doesn't reflect which gender we are and that this statement offers a Blessing for everyone. This Blessing forwards a prayer into the world that is sacred to those we love as well as to the planet and reflects an energy that we can tap into.
Gratitude and the Magic of the Holidays are similar energies that we can tap into if we remember and uncover the child-like innocence of our youth. When we can find the 'gift' in all our experiences and the Higher Purpose that is always present – or accept that there is a 'higher purpose' even when we can't see it – we can tap into Gratitude and further the Magical energy of Unconditional Love and Sharing in the Holiday Season. When we can tap into the child-like exuberance of the innocence of our youth before love became conditional we experience similar energies.
To me it is about finding your inspiration. I'm often inspired by magical movies like Harry Potter (the first three movies before the series became darker), Fantastic Beasts, and Christmas themed movies (any time of the year). I'm equally inspired by the magical remembrance of a first kiss and falling in love or the love of a pet. Pets to me are very special. If you have never experienced the unconditional love of a pet before I would recommend it.
I encourage you to find your inspiration and Remember the Magic of the Holidays while BEing Grateful for all that is YOU. And remember that you can Share Unconditionally this Love and Gratitude from within to all that is outside you.
I wish you all the Happiest Holiday Season, full of Magic and Gratitude!
Upcoming Shows & Guests
If you want to join us for a live taping of News for the Heart, you can join us on BlogTalk. Let me know & I will post all the information on Facebook!
I have live tapings at 1PM with: 
Jean Adrienne Dec 5 & 19th
Nancy Arruda Dec 28th
Tom Campbell Dec 29th
More are joining the excitement! Check Facebook
Sign up for my newsletter on the right at the top of the page to receive discounts on my favorite services and download a Quan Yin meditation.
With Love and an Open Heart, Laurie