Happy Holidays!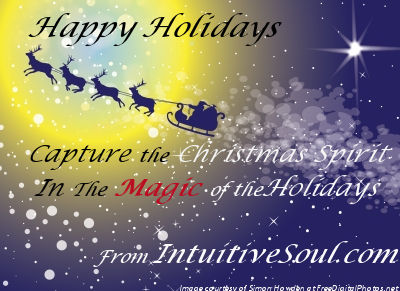 Can you believe it is the Holiday Season? Nov has ended with a lot of frustrations, I hope that this isn't indicative of Mercury Retrograde that starts on Dec 3rd and stations direct on Dec 22nd! Just be prepared for anything this month. And find a way to Celebrate the Magic of the Christmas Spirit of Giving! And giving isn't about giving Gifts, it is about Opening your Heart and Giving your full attention and Essence to all that you encounter. There is a strong source of Magic available to everyone as long as we are conscious of our "Worthiness" issues and don't fall into depression and avoid everyone. Tom Campbell and I did a show on this topic this week and fingers crossed we will get a video up as well shortly. (part of the frustrations over the past week) My wish for everyone is to Open your Hearts and share the Holiday Spirit, Having a Magical Holiday Season! ♡♡♡
Our book "Realities of Creation" that I co-authored looks fantastic and my chapter is on the Power of the Heart! Purchase your book today! It makes for a lovely gift, with 9 Powerful women offering a toolbox filled with ideas to help us move beyond our pre-conceived notions and limiting beliefs. Each reader can take a little from each of the contributors and craft the method of conscious creation that best works for you―with consistency, ease, and grace! Buy Yours Today!
What's Up in the Universal Sky this month: Dec 2017
The airwaves are getting a little intense for some people as we prepare for Mercury retrograde.  Mercury entered into its pre-shadow on November 15th.  It will station retrograde on December 3rd until it stations direct on December 22nd.  This is quite a synchronistic event for the year.
I did the numerology for 2017 which is 10/1, and then compared that to the Major Arcana in the Tarot. The #10 Card is The Wheel of Fortune which is ruled by the planet Jupiter.  The #1 card is The Magician which is ruled by the planet Mercury.  Jupiter's Ruling sign is Sagittarius and Mercury is ruled by the signs of Gemini and Virgo.  As some of you may be aware, Gemini and Sagittarius are opposite each other on the zodiac wheel, so they mirror each other.
Now I have mentioned in prior newsletters, that Jupiter (#10 The Wheel of Fortune) shifted into the sign of Scorpio (death, transformation & rebirth) on October (10th month) 10th (day) in 2017 (10/1 year).  Remember Jupiter (growth, expansion, and wealth) is activating intense change (Scorpio) for everyone.
On December 3rd, Mercury is stationing retrograde at the anaretic 29th degree of Sagittarius 18 minutes.  When any planet is at 29 degrees of any sign, it pushes us into making decisions that can make or break us.  This might push you into blindly jumping into an agonizing decision.  There is a vibration of 'completion' with this energy.  What do you need to complete in regards to your thought process?
Also on December 3rd, we experience the Full Moon in Gemini, placing emphasis on the Mercury retrograde and what you need to finish up!  This has one on a quest for independence when that independence is being challenged.  One needs to liquidate the past and this Full Moon shows the path to liquidation! Want to read more? Go Here!
Nancy Arruda is a psychic-intuitive who uses the tools of Astrology and Tarot to gain understanding into the spiritual realms.  She believes in focusing on doing what you love to do.  Living life through your heart center and allowing your inner light to shine!  Visit her at www.universalsky.com
Inspiration: Holiday Magic and Worthiness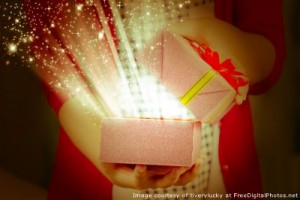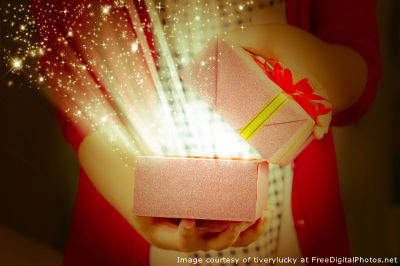 As the Holidays approach I always feel the essence of Magic all around us. This energy is always present but feels stronger this time of year because of the excitement and anticipation of getting gifts for our loved ones and planning get-togethers with everyone who is important to us. Yet I know that for some people this Holiday time brings anxiety as maybe their finances aren't available for giving to others and for many people there is a feeling of loneliness during this time. This year Ziad Hashash, one of the co-facilitators of a group that I participate in, talked about Worthiness and that it has been something we have had to prove throughout our lives. This was a very powerful message that I thought I could share in my way to assist you to feel worthy of enJOYing the Magic of this wonderful energy and time of year!
Ziad shares that we must prove we are 'worthy of approval, acknowledgment, appreciation and even love. We learn this throughout our lives – beginning at a very young age. We are taught that we must possess worthiness in order to have a purpose, make money, and attract a life partner and that our very survival depends on the world agreeing that we are worthy and that our self-worth comes from outside of us'. One can see that being so outwardly focused this would impact our ability to connect with the Magic, the source of Worthiness, within us. 'He claims this is the root of our problem as it is impossible to prove our worth as it resides within us, at the very core of our Being. And finally he claims that to turn off the 'worthiness-seeking program' we must stop acting like our worth is conditional and believing that we need to improve or change ourselves in order to gain worth. Looking outside for approval and worth keeps us trapped in a cycle with no way out.'
How powerful is this message to receive over a Holiday Season filled with Magic? The Magic that is available to us during this special time is because True Love exists in Giving. Too often we focus on what we want, need or desire or have expectations about because when we give we are expecting that we will receive something back in return. This creates expectations and conditions on what we give. Instead of giving from our Hearts to another; we are giving because our ego is desiring something in return. Read More…
Upcoming Shows & Guests
If you want to join us for a live taping of News for the Heart, you can join us on BlogTalk. Let me know & I will post all the information on Facebook!
I have live tapings at 1PM with: 
Jean Adrienne Dec 18th
Nancy Arruda Dec 2oth
Tom Campbell Dec 26th

Join the excitement! Check Facebook
Don't miss my newsletter each month and receive discounts on my favorite services as well as a download of a Quan Yin meditation. Sign up on the right at the top of the page.
With Love and an Open Heart,
Have a Happy Wonderfully Magical Holiday!
Laurie ♡