Happy Holidays!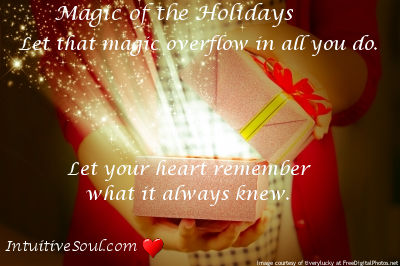 I love this time of year. The 'Magic of the Season' is the love, compassion, and generosity that exists – especially at this time of the year. It has the power to open our hearts so completely that we wonder how we have ever loved in the past. The 'magic' is remembering the excitement we had as children and the innocence we had at exploring what new adventures were right around the corner. Find your way to let the Magic nurture and foster your Divine Essence. And let that Essence flow out into your life, at this time of the year and every day of your life. Remember the feeling of this Magic of the Holidays and make a promise to yourself to create Moments of Magic this holiday season! And you will be a part of the true spirit of the Holidays!
Happy Holidays From My Heart to Yours! 

What's Up in the Universal Sky this month: December 2018
Welcome to the final month of 2018 to complete the integration of this years vibration of Self-Mastery through relating.  Lessons around Self-Mastery are not easy because it has you accessing the strength and courage that exists within the self.
We are currently being supported through the sign of Sagittarius which allows us to gain the experience necessary in fully understanding the wisdom that in inherent within us.
We start December with Mercury Retrograde which started on November 16th in Sagittarius. On December 1st Mercury will retrograde back into Scorpio, allowing us to purge those ingrained thoughts that no longer serve.  It will station direct on December 6th supporting us in gathering our consciousness and then tap into our higher mind once it moves into Sagittarius again on December 12.
Whenever the Sun transits Sagittarius we are constantly tapping into the big picture.  The Moon will align with the Sun on December 7th so that we can fully embrace the planting of new seeds through visualization.  This New Moon awakens us to understanding our levels of dependence.  Quite often when we are in a situation that is difficult to understand, we send out psychic impulses of dependency.  How have you vibrated this dependency outward? Read More…
Nancy Arruda is a psychic-intuitive who uses the tools of Astrology and Tarot to gain understanding into the spiritual realms.  She believes in focusing on doing what you love to do.  Living life through your heart center and allowing your inner light to shine!  Visit her at www.universalsky.com
Inspiration: Finding Peace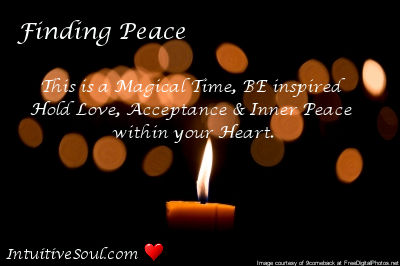 As I sit writing this we are coming up to the Beginning of the Holiday Season – it was right before the American Thanksgiving which leads to our Christmas Season. Every culture has Holidays during the end of the Year where we can feel Blessed and Grateful. The Spirit of Giving to others is part of the Magic that surrounds us each year at this time. We have movies that make us cry and laugh and fill us with Hope. We visit our families, friends and loved ones – some of these visits are challenging while others are exactly what our Soul needs. When I get into the Holiday Spirit each year I connect with this Magical Essence that reminds me why I work so hard to Grow Up and Find my Peace. Emmanuel Dagher during our last Club Miracles session discussed Good Fortune and how we just need to feel worthy of our Blessings and to be in the Flow of Life to experience Good Fortune. However, what I resonated with the most and of course what has been 'showing up' is that during this time one of our challenges with BEing in the Flow (BEing in the Present moment) is our ability to Love and Accept ourselves for who we are; to find Peace in where we are at the moment.
The Spirit of Giving to others is part of the Magic that surrounds us each year at this time.
We all have experiences, challenges, choices and personal stories that we have judged and continue to relive – things that we are unhappy about and especially around this time of the year when we set up our expectations for the Holiday Season such as visiting family or friends – events that can feel more like an 'obligation' than an 'invitation to Share the Magic of the Season'. We have all experienced physical, mental, emotional and spiritual challenges, hardships, aches and pains, that tend to mold us or define us – as who we are or who we believe we are. We feel shame and guilt around our choices during these experiences – consciously or unconsciously – and how we react towards others as well as the parts of ourselves that experienced these challenges. However mostly we think about what we could have, would have, or should have done differently – we try to DO something that will fix, change, and heal the problem. Read More…
Upcoming Shows & Guests
If you want to join us for a live taping of News for the Heart, you can join us on BlogTalk. Let me know & I will post all the information on Facebook!
I have live tapings at 1 & 2 PM with: 
Lori Wilson Dec 11th
Peace Mother Dec 12th
Jean Adrienne Dec 17th
Tom Campbell Dec 27th
Join the excitement! Check Facebook
Don't miss my newsletter each month and receive discounts on my favorite services as well as a download of a Quan Yin meditation. Sign up on the right at the top of the page.
With Love and an Open Heart,
Laurie ♡