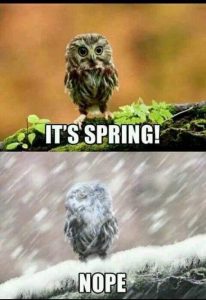 Wow – March certainly went out like a Lion. I'm hoping that this April will be nicer than last year. It is always this time of the year when we BEcome Motivated to BEgin new projects and clear away the old to make way for new Possibilities. Now that Mercury is direct again (as of later last week) – we should begin to feel excited and inspired to move forward. We'll be discussing below – What are you inspired to change with the turning of the seasons? More importantly: what is your motivation for changing?
What's Up in the Universal Sky this month: April 2019
Nancy is busy moving and should have her Astrology forecast available soon – Go Here to get more info.
Nancy Arruda is a psychic-intuitive who uses the tools of Astrology and Tarot to gain understanding into the spiritual realms.  She believes in focusing on doing what you love to do.  Living life through your heart center and allowing your inner light to shine!  Visit her at www.universalsky.com
Inspiration: Motivation
This has been an interesting month – many people are finding 2019 challenging so far. I have been excited and looking forward to spring and as I write this today we are just entering spring equinox. When considering the Canadian seasons winter, although often beautiful, is just too dark and cold most of the time. Once we reach equinox and have almost equal light to darkness (we get a few minutes more light at that time of the year) it is very welcomed – especially if it is sunny. What does any of this have to do with motivation? Well, we become motivated by many different things – for some of us it is shaking off the cold, short days of winter with the higher temperatures and enjoying the sunshine to motivate us to do spring cleaning – and of course stepping outside for more activities and focusing on a healthier lifestyle.
Yet often our motivation is through our fears. We often want a healthier lifestyle because we have had a health scare and we consider what we don't want … like disease, excess weight, aging symptoms or aches and pains. Unfortunately this fear-based motivation isn't a motivation that will sustain us through our desired outcome. Fear doesn't motivate us enough to change; partially because we are always focused on what we don't want. Whenever we are trying to change something within ourselves we continue to see, feel, hear, taste and smell the problem. For example: when we are experiencing pain we become focused on the pain and it is almost impossible to feel anything other than the physical pain we are hoping to alleviate.
Unfortunately fear-based motivation isn't a motivation that will sustain us through our desired outcome.
Upcoming Shows & Guests
If you want to join us for a live taping of News for the Heart, you can join us on BlogTalk. Let me know & I will post all the information on Facebook!
I have live tapings at 1 & 2 PM with: 
Tom Campbell Apr 30th
Join the excitement! Check Facebook
Don't miss my newsletter each month and receive discounts on my favorite services as well as a download of a Quan Yin meditation. Sign up on the right at the top of the page.
With Love and an Open Heart, 
Laurie ♡